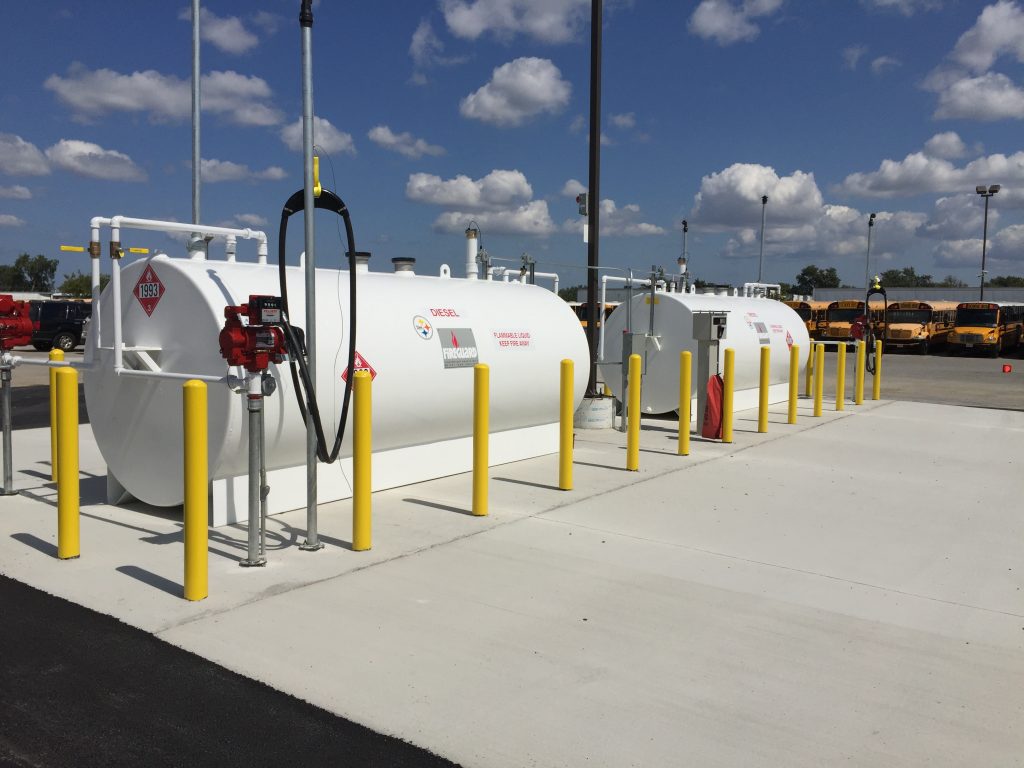 Above Ground Storage Tanks (AST) vs. Underground Storage Tanks (USTs) 
What is changing in the world of fuel storage that is affecting owner/operators of fuel tanks?  In one word – regulation.  As the state of Illinois hammers owners/operators of USTs with more regulations, organizations with USTs are needing to rethink how they store fuel.
For many years USTs were the preferred method of storing fuel as they were underground and out of sight.  Storage capacity with USTs was seemingly unlimited and not much thought was given to environmental and local regulations. USTs are excellent for establishments that want to economize on space. Placing their storage tank underground means that they have plenty of prime real estate space left above ground.
However, things change and as the regulations have increased it has become more costly and difficult to maintain underground fuel tanks.  Basic maintenance and environmental insurance can become so costly other alternatives must be considered. The EPA continues to add new regulations like the most recent triennial inspection that if the inspection fails can cost the owner/operator of the underground tanks tens of thousands of dollars to repair.
Here are the reasons many organizations are making a move towards removing their USTs and replacing them with ASTs:
1.) Cost – maintaining USTs are getting more and more expensive every year and that trend is only going to increase in the coming years. The average cost for testing and maintenance of a UST facility in the Chicago Area be around $5,000 a year and considerably much more if there are upgrades needed or if the tanks are are over 20 years old. In addition, the required insurance of maintaining underground fuel tanks can be in many cases over $1,000 a month.
2.) Safety – it is vital when it comes to choosing the correct storage container for petroleum products and leaking USTs are the single greatest threat to underground drinking water in Illinois.
3.) Simplicity – ASTs do not require AB Operator Service (Monthly Maintenance). The main benefit to this is you no longer have to train and certify an employee or hire an outside company to maintain the fuel facility.
4.) Capacity – ASTs can now store 12,000 gallons per site giving organizations plenty of fuel storage.
Final thoughts on Fuel Storage for your organization
Before making a decision you should figure out how much fuel you are consuming in an average week.  If its less than 5,000/week an AST is a better fit.
Are ASTs allowed in my city?  Fire departments in some cities and municipalities prohibit the use of ASTs.  Contact Petroleum Technologies Equipment and they can advise you on what your options are.
Owners that are thinking of removing their existing USTs have another advantage, they can utilize the Illinois Lust Fund.  The fund was designed to help qualified owner/operators pay for tank removal and any contamination clean-up.  This equates to tens of thousands of dollars of savings!