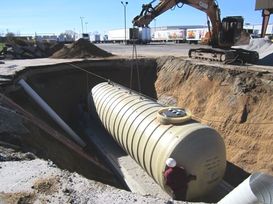 Commercial companies such as trucking, construction or local governments that have fleets of vehicles all have different options when it comes to fueling their fleet. To get the fuel they need, fleets have three basic choices: They can fuel up at gas stations, install an on-site fueling station, or use onsite fuel delivery.
To take advantage of the lowest cost of fuel, Installation of a Commercial Fueling Facility – On-Site Fueling might be the best option however, several factors should be considered before installing a facility.
Advantages of having an On-Site Fueling Station
Before a fleet decides whether an on-site fueling station for gasoline, diesel, DEF or any other type of fuel is the best option, several factors to consider include the fleets's annual fuel usage, total annual fuel spend, the types of fuel utilized, and whether the fleets return to facility often or remain on the road.
When done correctly, on-site fueling can be very favorable especially for construction companies that transport heavy equipment and use flatbeds to move tools and equipment to job sites. For trucking companies that have a main central location and don't work a large geographic area, on-site fueling is very useful.
Some of the top benefits of utilizing an on-site fueling facility are:
Best and Lowest Price of Fuel

Convenience & Accessibility

Product Security
Disadvantages of having an On-site Fueling Facility
Some potential concerns related to an on-site fueling facility include cost of building the facility, monitoring and tracking issues, as well as environmental liability and changing regulations/laws.
Fleet managers must ensure they are up to date with environmental laws and state regulatory laws that govern owner/operators of underground and above ground storage tanks. In the state of Illinois the main regulatory agency is the Division of Petroleum and Chemical Safety which is part of the Office of the State Fire Marshal.
One thing to remember is that On-Site Fueling Stations are a long-term investment, not intended for short-term gains due to the cost of the infrastructure involved.
To determine if On-Site Fueling Facility is right for you please contact Petroleum Technologies Equipment in Lyons Illinois. With over 25 experience of building On-Site Fueling Facilities in the Chicago Area we can analyze your companies fuel needs and make recommendations.
Please call us at (708) 243-1108 or email us at tjdpte@aol.com[/cs_text][/cs_column][/cs_row][/cs_section][/cs_content]